SPT-4740 NCC REFLECTION™
A complete system designed for a wide variety of restaurant concepts including Casual Dining, Fine Dining, Pizza Delivery, Ice Cream and Coffee Shops, Bars and Nightclubs. SPT-4740 NCC REFLECTION™ POS is scalable from a single, stand-alone terminal, to a restaurant chain with multiple stores and a network of terminals at each location.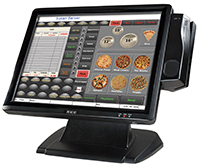 NCC REFLECTION™ focuses on accuracy and increased productivity with user-friendly interface and functionality. Its embedded operating system is resistant to spyware and viruses.
The Quick Service NCC Reflection POS® handles single and dual drive-thru concepts, even those with multiple order windows, all in the same interface.
The Table Service NCC Reflection POS® streamlines meal order preparation from point of sale to the kitchen. With graphical floor plans, it optimizes table seating for maximum revenue.
---
PC Workstation, the back office software, is a Windows®-based application which provides up to 150 real-time reports and is QuickBooks® compatible.
Reports include:
Employee time cards
Labor analysis
Labor scheduling
Tip reports
Menu item food costs
Hourly productivity
---
NCC RHQ is a cloud-based web application which does not rely on a network server to keep you operating. Coupled with NCC Reflection POS®, the RHQ server is set only to send and receive data. The POS system runs independently and keeps all sales data stored locally until it communicates and sends information to RHQ - intermittently throughout the day, at the end of the day or at the end of the week, whichever best fits your needs.